Posts tagged SERVILE SECT
SERVILE SECT "SVRRENDER" CS30 (companion to "Trvth", all new material)
BLOOD OF THE BLACK OWL / AT THE HEAD OF THE WOODS "SPLIT CD" (long time collaborators from The Elemental Chrysalis present new offerings from their respective solo entities)
DREAMLESS "ALL THIS SORROW, ALL THESE KNIVES" CD (stream before you buy at dreamless666.bandcamp.com)
SADNESS SATURN / GOLDEN RAVEN "SPLIT CS30" (founding members of Servile Sect present their solo projects together on this split)
DEMIAN JOHNSTON "IF THEY EVEN FIND ME" CS30 (you know the drill, this will sell out and head deep into obscurity, so don't miss out)
---
CIRCLE OF OUROBORUS "ELEVEN FINGERS" weighs in at #7 on Pitchfork's Show No Mercy Top 40 of 2011, SERVILE SECT "TRVTH" honorable mention.

Look for the CD version of CoO "Eleven Fingers" early 2012.
---
WHITE RING "HEY HEY, MY MY + FELT U" 12", 180 GRAM, 45 RPM
PRETERITE "PILLAR OF WINDS" CD, STOUGHTON OLD STYLE MINI GATEFOLD + INSERT
AELTER "III" LP, ANOTHER SLICE OF BRILLIANCE FROM BLAKE GREEN OF WOLVSERPENT
SADNESS SATURN / UTARM SPLIT CASSETTE, LIMITED TO 39 COPIES
ALL RELEASES HAVE A NOVEMBER 8 RELEASE DATE. PREORDER IS NOW AVAILABLE ONLINE, WITH THE EXCEPTION OF THE SADNESS SATURN / UTARM SPLIT, WHICH IS SO LIMITED, IT CAN ONLY BE ACQUIRED THROUGH EMAIL INQUIRY: handmadebirdsrecords@gmail.com
Aelter has a limited amount in white that will go to the first to pre order.
---
Those of you that enjoyed the recent SERVILE SECT mixtape via Stereogum's Haunting The Chapel feature, can listen to yet another mixtape curated by the band. Whereas Luke made the first list, Nhate put this one together, and it went live today, courtesy of the very cool CVLT NATION site.
http://www.cvltnation.com/sonic-cathedrals-mixtape-series-vol-iii%E2%80%A6-curated-by-servile-sect/
---
http://www.invisibleoranges.com/2011/07/label-spotlight-handmade-birds/
Another one of our favorite sites on the interweb, INVISIBLE ORANGES, has posted a label spotlight on Handmade Birds, complete with a sampler of some of our artists. Check it! AND DON'T FORGET TO READ THE INSTRUCTIONS AT THE BOTTOM FOR A CHANCE TO SCORE THE KEY BOXSET AND OTHER VINYL FROM HMB!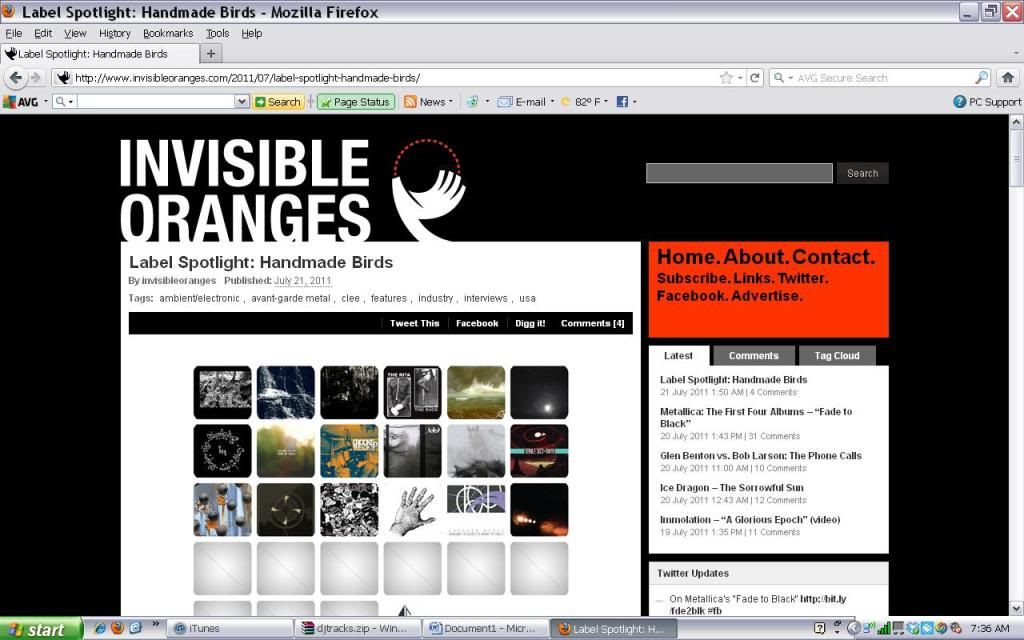 ---

Two more awesome features on great websites for Servile Sect!
CRUSTCAKE
http://www.crustcake.com/2011/07/freshly-baked-servile-sect.html
THE ONION AV CLUB
"Blackened ambience at its most hidden and hypnotic"…."
---
Lovingly pinched from Lurker: Servile Sect is, inevitably, birthed from some genre-specific formula of influence and the parallels are, at times, easy to draw. What elevates their music above and beyond the coils of compartmentalization and inhibited thought is not easy to isolate. Trvth is a monument in its own right. Weaving together a vast canvas of influence that begins with psychedelics, passes the cosmos and lands in the wilderness of self induced free thought – Servile Sect are large in vision and large in sound.
Surpassing the rudimentary hallmarks of ambience, noise, psychedelic hues, drone and black metal all lazy comparisons when it comes to the blitzed euphoria that lies at the center of these drones and rhythms to birth one of the most unique and intriguing records of the year.It can be hypnotic – but certainly not solely because of the psychedelic cadence that permeates the field recordings, for the black metal movements of the song are equally hypnotic.It can be euphoric – though not due to the crystalline clarity that seeps through during moments of climactic intensity, since the shuffled, fuzzed and meandering field recordings are light-bearing enough.It can be aggressive – the relentless 'solar storm' assault that out shadows the majority of the second side is justification enough. Yet to hint at this during the more relaxed, trip inducing first side? How can this even come to be?
It is a unique experience. It is avant-garde in the sense that it innovates: there is a path that lies ahead. Too often the avant-garde label has summoned visions of dead ends, projects born in the fire and dying in the ashes. They have ideas that are interesting for one or two albums before dissipating. I get a different impression from Servile Sect. Trvth is a joy to experience. It is an experience that plays on manifold moods and feelings without every growing tiring. It is an experience that I forgot music could antagonize. Available over at Handmade Birds.
http://www.roadburn.com/2011/07/album-of-the-day-servile-sect-trvth/
---
The Inarguable writes some of the most thorough and thoughtful reviews in the blogosphere…check out the recent review of TRVTH here:
http://theinarguable.blogspot.com/2011/06/servile-sect-trvth-2011-handmade-birds.html
---
One of our favorite music sites has recently posted an interview with Servile Sect. Those wanting more insight on the epic LP "TRVTH", the band's history, or those that have not yet discovered Lurker as an important source for music, check this one out:
http://www.lurkerspath.com/2011/06/30/servile-sect-interview-on-trvth/

---
---