Posts tagged INVISIBLE ORANGES
The mighty Invisible Oranges posted a Pinkish Black feature on June 13. We just now caught it. Check it out and pass it along!
http://www.invisibleoranges.com/2012/06/interview-pinkish-black/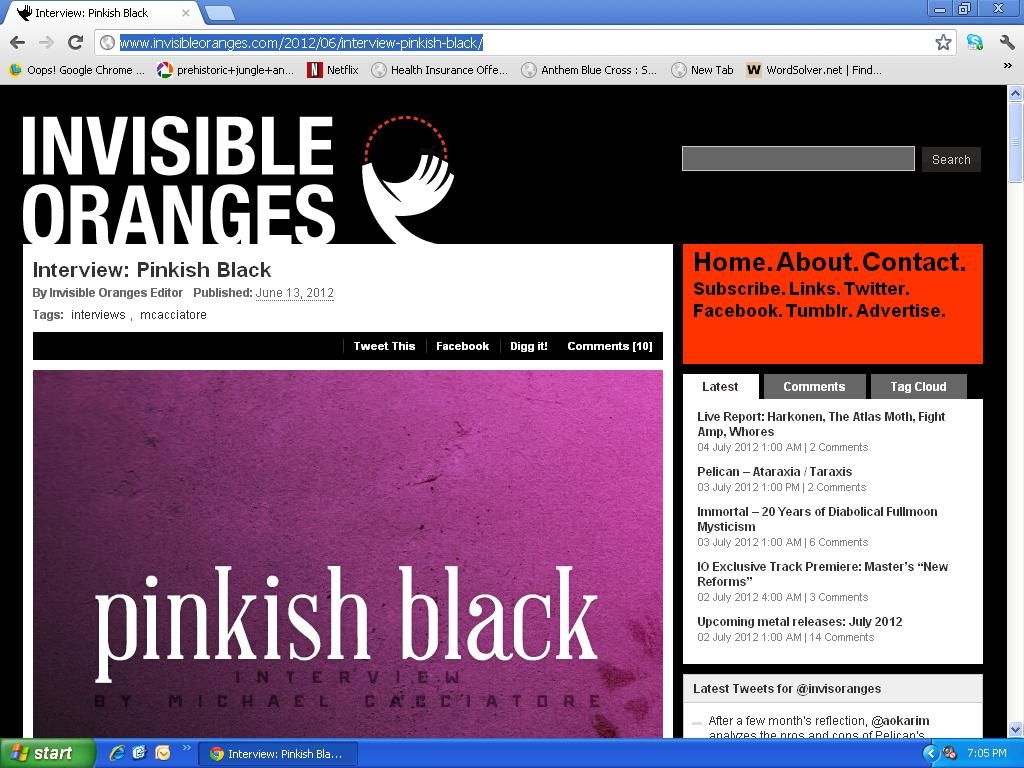 ---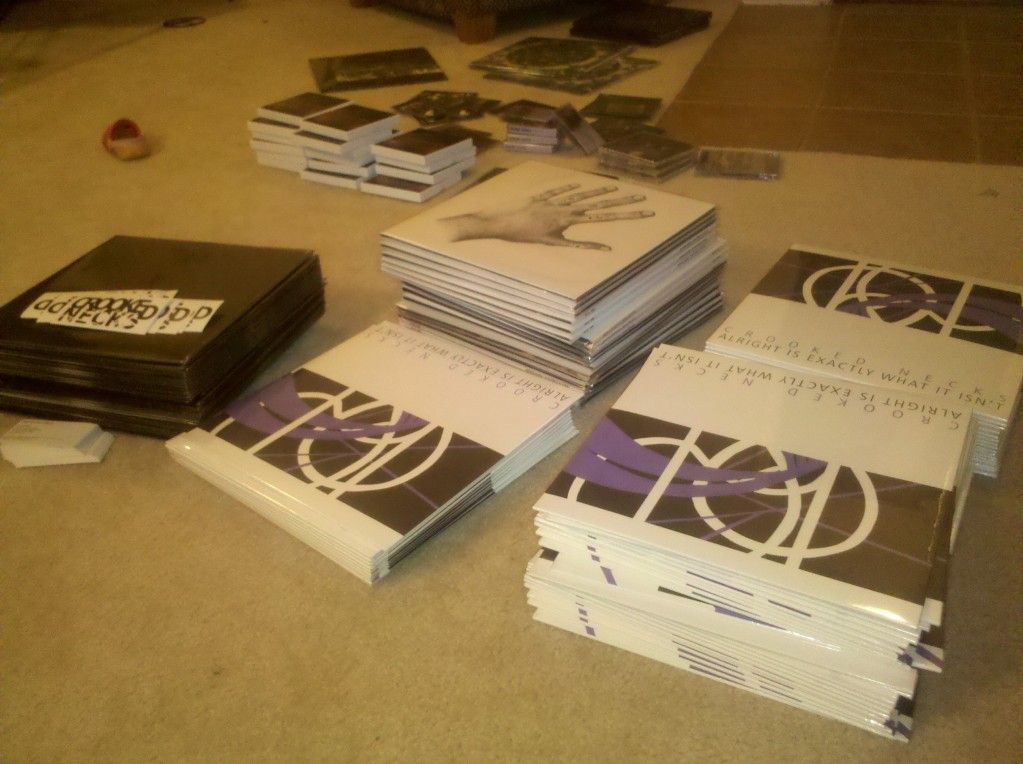 "Like watching a brilliant sunset inside a snow globe. This is a fascinating elaboration of its creators' CVs…7/10" - DECIBEL
"Putting my finger on Crooked Necks is a difficult proposition now even after listening to Alright Is Exactly What It Isn't a bunch of times and that is fine by me because not everything needs an explanation; so stop your complaining and questioning, pop the album on your turntable, sit back and enjoy the album for what it is, excellent." 8/10 – SCENE POINT BLANK
http://www.scenepointblank.com/reviews/crooked-necks/alright-is-exactly-what-it-isnt
"An outrageously beautiful but quietly threatening twisted dream of shoegazing ambiance, it's deeply enveloping and truly original." – #50 on Top 100 Albums of 2011, One Winter Only
http://onewinteronly.blogspot.com/2011/12/2011-in-review-top-100-albums-of-year_15.html
"It's atmospheric, post-apocalyptic post-rock coupled with shoegaze mastery is unparalleled and unmatched. If you're not loving this album, you should be. Immediately." –#3 Album of 2011, American Aftermath
http://americanaftermath.net/2011/12/02/ross-gnarlys-top-22-albums-of-2011/ 
"Odd, ambient, atmospheric, there is something slightly disconcerting about this one. it's certainly haunting but there's always the impression that, just out of focus, something dark is lurking just below the surface." –#7 Album of 2011, Cack Blabbath
http://www.cackblabbath.co.uk/2011/12/16/cbs-2011-reviews-iains-top-10-gigs-and-albums/
"…emotionally evocative in a way that few albums have been this year." –Invisible Oranges
http://www.invisibleoranges.com/2011/11/interview-crooked-necks/
"CROOKED NECKS did such a great job at creating their own world, where their musical imagination rules its' own sonic kingdom. I actually feel really happy & honored to have a chance to write about such a killer piece of audio history." –#9 Album of 2011, Cvlt Nation
http://www.cvltnation.com/cvlt-nation-top-13-albums9alright-is-exactly-what-it-isntcrooked-necks/
"Had Mark Kozelek discovered black metal in Red House Painters' heyday, the outcome may have been a lot like Crooked Necks. That ghost from the car crash never found peace." –Crustcake
http://www.crustcake.com/2011/12/freshly-baked-crooked-necks.html
"Crooked Necks create a dynamic sound mixing anxious post-punk, foreboding metal, and frozen 80s goth and new wave." –Foxy Digitalis
http://www.foxydigitalis.com/foxyd/?p=23374
"A glimmering light in the "post-black metal" genre, in which I don't think Crooked Necks should even exist, Alright Is Exactly What It Isn't is one of those near-perfect, introspective albums which will never get old, or leave my record player, for that matter." – The Inarguable
http://www.theinarguable.com/2011/12/jons-top-10-of-2011.html
---
One of the strongest sites on the net, Invisible Oranges has posted a feature/interview with Crooked Necks. Read about the band and stream music.
http://www.invisibleoranges.com/2011/11/interview-crooked-necks/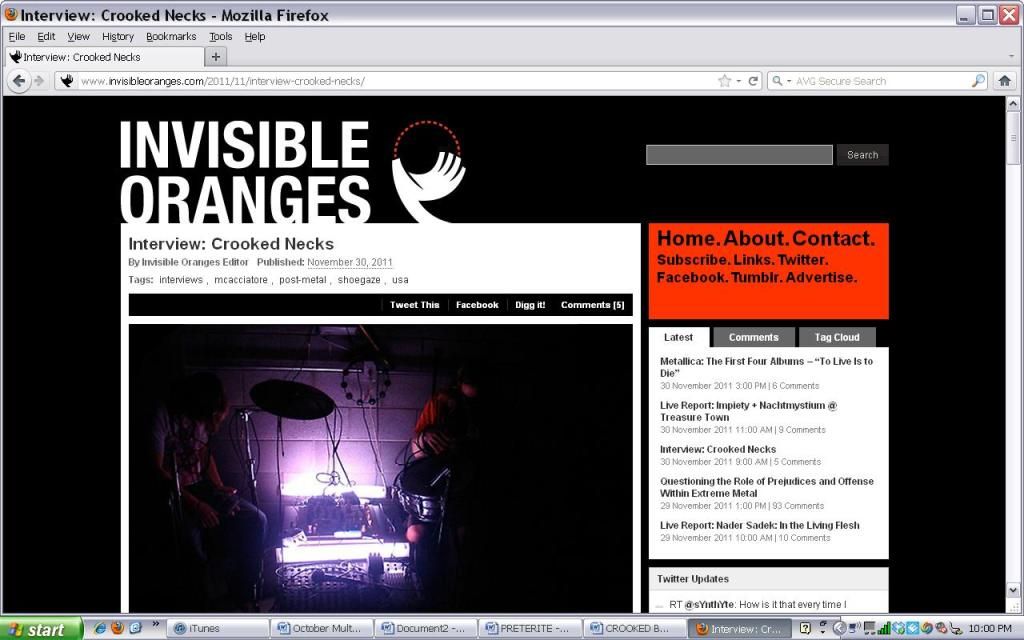 ---
http://www.invisibleoranges.com/2011/07/label-spotlight-handmade-birds/
Another one of our favorite sites on the interweb, INVISIBLE ORANGES, has posted a label spotlight on Handmade Birds, complete with a sampler of some of our artists. Check it! AND DON'T FORGET TO READ THE INSTRUCTIONS AT THE BOTTOM FOR A CHANCE TO SCORE THE KEY BOXSET AND OTHER VINYL FROM HMB!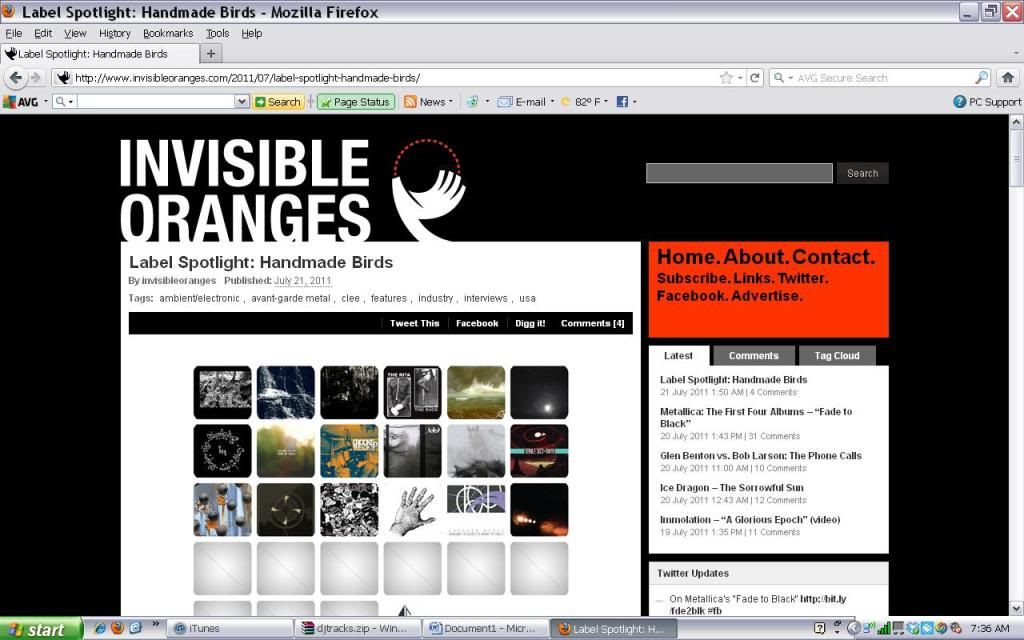 ---